{{ notice }}
{{ warning }}
Selling It Right
The online Selling It Right program is an interactive, self-study course that will educate you about your legal responsibilities when selling non-medical cannabis.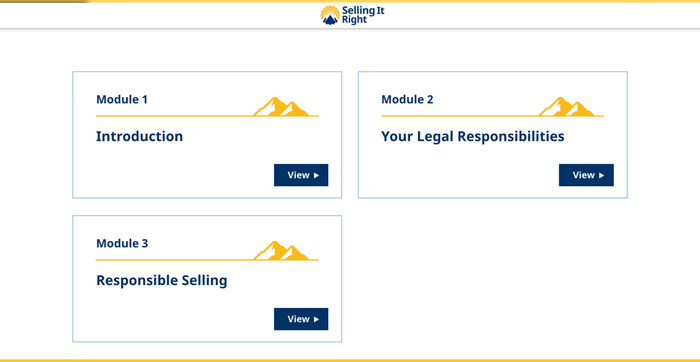 Slideshow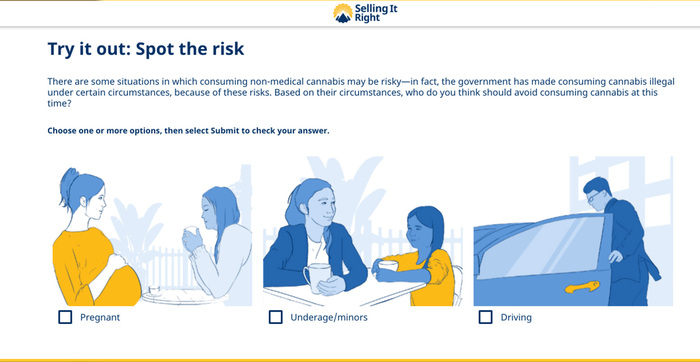 Slideshow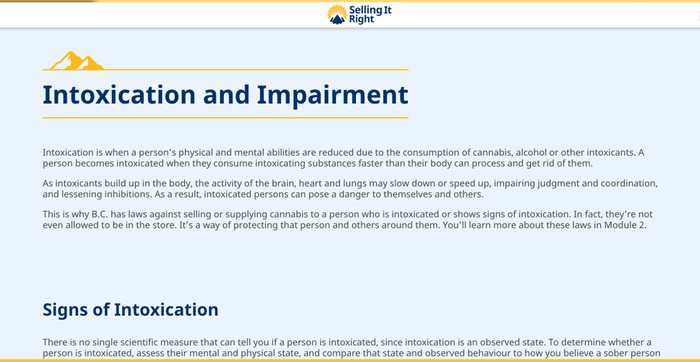 Slideshow



Cannabis is regulated by the federal and provincial governments to protect public safety and serve the public interest. Selling It Right certification is required for anyone involved in the sale of non-medical cannabis in British Columbia. It is designed to help make sure that the sale of non-medical cannabis is done lawfully and keeps patrons, staff and others safe from cannabis-related harms.

The course explains why and how cannabis is regulated and provides effective techniques related to the sale of cannabis. Some of the topics covered include:

Recognizing signs of intoxication
Reducing risks associated with cannabis use
What and how products can be sold
Preventing the sale of cannabis to minors
Assessing patrons and refusing sales when necessary
Creating incident reports
Course Outline
Introduction
Your Legal Responsibilities
Responsible Selling
Technical Requirements:
A reliable internet connection
If you are using your smartphone – please ensure you are connected to a Wi-Fi network
Turn-on browser pop-ups
We recommend that you take the training program on a desktop/laptop computer. The program is responsive and will work on a tablet or smartphone, but you may find the screen size to be small and difficult to interact with some of the training elements.
---
PDF Print Version
(6MB)
A print version of the program is also available for those who do not wish to take the course online.
Are you ready to take the Final Exam for your Selling It Right Course?
The cost for the online exam is $35.
Your purchase includes 3 attempts for the final exam. If you don't pass the exam after your 3rd try, you can retake the exam for the price of $35.
All purchases are final and payments are non-refundable. Payment for the exam can be made using Visa, MasterCard or an American Express credit card.
Please be sure that you have reviewed all of the course materials to prepare for your exam. You must receive 80% on the final exam in order to receive your certificate. This means answering 24 (or more) of the 30 questions correctly. It's not too late to go back to the course to review the learning objectives now.
The Selling It Right exam is a multiple choice exam. The questions are randomly generated, and therefore, each exam will be different. The exam is not timed and you can log out of your exam and continue at a later time.
Once you have successfully completed the exam you will receive your Selling It Right certificate number immediately and have the option of printing your certificate. You can view and print your certificate at any time.